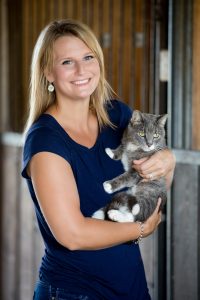 A Delaware native, Dr. Stacey has always loved animals, and her family was confident her collection of 'critters' and her love of animals would guide her career path.
Dr. Stacey grew up in Smyrna, Delaware, and attended West Chester University to receive her undergraduate in biology, Drexel for her graduate study in animal science, and finally, the University of Pennsylvania Veterinary School. Following graduation, Dr. Stacey completed an internship at the Veterinary Specialty Center of Delaware (VSCD). Her interest in emergency and critical care led Dr. Stacey to accept a position as an Emergency Veterinarian at VSCD. After working for several years in an emergency setting, Dr. Stacey felt called to open her own practice so she could develop longer-lasting relationships with animals and their owners.
Dr. Stacey is married to her wonderful husband, Brandon, and mother to an adorable son they affectionately call 'Bug.' Her current critter collection includes two dogs, four cats, three horses, several chickens, and two ducks. In her free time, Dr. Stacey enjoys spending time with her family, camping and riding her horse, Malakai ("Kai"). Kai is a rescue thoroughbred Dr. Stacey adopted when Kai was gravely ill with an infection. Back in top shape now, Dr. Stacey and Kai are an inseparable team.