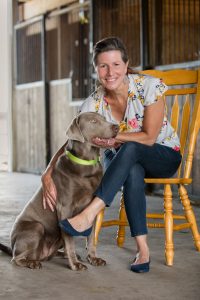 Kathy Maney brings twenty years of experience at a large veterinary emergency and specialty hospital to Willow Grace, as well as her deep commitment to excellence in client and patient care, and dedication to working as part of a highly coordinated team. Kathy studied human resource management at Villanova University and has extensive experience as an office manager, hospital administrator, and assistant practice manager.
Working closely with both the hospital team and with clients, Kathy's goal is to ensure excellent patient care and a premier client experience. She maintains a positive, encouraging attitude to bring about the best possible outcomes for clients and their pets. Kathy is the backbone of the practice, and she ensures clients will have a smooth and a stress-free experience at Willow Grace.
Kathy is a lifelong resident of Delaware and is married to her best friend of 37 years, Dennis. Together they have two children, Mandy and Daniel, and two grandchildren. Her family is very tightly bonded, and in addition to spending time with them, she enjoys fishing at the beach, swimming, gardening, and running with her four-legged companion, a silver Labrador named Piper. She also has a feline companion, Hemi.