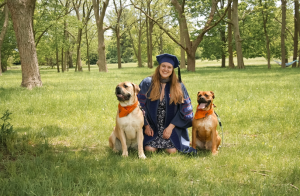 Dr. Lester has had a love for animals as long as she can remember. Her fondest memory as a young girl was completing a Therapy Dogs International training course with her neighbor's dog, Windy. She had a very special bond with Windy since she did not have any animals of her own. She was also an active member of FFA in high school which only solidified her passion for animals and the agriculture industry.
Dr. Lester was born and raised in Middletown, Delaware, but decided to venture away from home for college. She graduated from Oklahoma State University with a B.S. in Animal Sciences in 2017 and earned her Doctorate of Veterinary Medicine from University of Illinois in 2022. Upon graduation, Dr. Lester decided to move back home to be closer to family, which led her to Willow Grace. Dr. Lester is beyond excited to be able to start her veterinary career at Willow Grace and learn all that she can from the amazing staff!
Dr. Lester currently has 2 fur children: a Cane Corso named Cleopatra ("Cleo") and a Boxer/American Staffordshire Terrier Mix named Ptolemy ("Lemy"). In her free time, she enjoys being outdoors, hiking, camping, and traveling. She also loves reading and can almost always be found with a book in her hand.