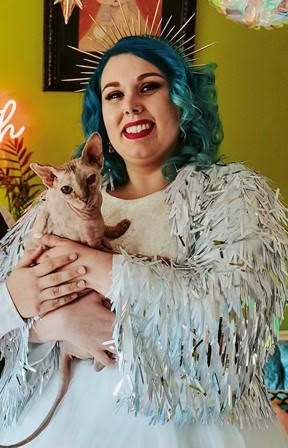 Kate is originally from New Jersey and now resides in Delaware. She has been in veterinary medicine for the past 15 years. Kate has worked as a veterinary technician in general practice, emergency medicine, oncology and most recently ophthalmology.
Kate has a passion for bright colors, glitter, all animals (but especially the hairless kind) and pet's with faces only a mother could love. She married her wife, Michelle, in 2021 and together they have a menagerie of animals including a hairless cat named Calamari, three furry cats: Sushi, Sir Edgar Allan Purrogi and The Baron von Meatball Parmesan III. They also have three dogs: Cara, Lord Mushu Noodles (who may actually be a large muppet) and a tiny blind dog named Gouda.
She is super excited to join friends new and old at Willow Grace!