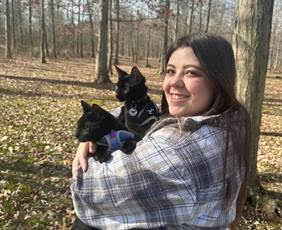 Brianna was born in Delaware and was raised between Delaware and New Jersey throughout her life. After graduating high school in 2016, Brianna started working as an assistant at a local emergency hospital. Soon after that, she worked in general practice while she attended college.
Brianna graduated from Delaware Technical and Community College with her Associates Degree in Veterinary Technology and passed the Veterinary Technician National Examination (VTNE) to obtain her license (LVT) in 2020. After becoming licensed, Brianna continued working in general practice for a year before finding her way back to emergency medicine at a local emergency/specialty hospital.
Brianna has two black Halloween kittens named Hiccup and Astrid. She also has a 16 year old rat terrier named Jazzmyn. When she is not trying to harness train her cats, you can find her curled up with a good book. Her and her family are Disney fanatics and when out on vacation you can find her and her long-term partner, Chris, in Florida visiting her family and the mouse himself.
Brianna has an interest in not only emergency medicine but also care for our geriatric pets. She is RECOVER CPR certified and is also Fear Free certified.